GREAT SMALL WATERS
Good Fishing Starts With Good Waters...
No one knows that better than veteran lake/pond builder Ray Scott, founder of the Bass Anglers Sportsman Society (B.A.S.S.). After a lifelong passion for building bass lakes, Scott shares his down to earth techniques and unique ideas for creating Great Small Waters and ideal bass habitat in a 3 volume video series.
By his own admission, Ray Scott learned about lake building the hard way. He firmly believes a small investment and a little know how up front can prevent costly mistakes and big disappointments later on. He enthusiastically shares his knowledge and his personal vision in this informative and entertaining video series that will help you create and maintain your very own "Great Small Waters."
Whether you are starting with raw land... Rehabilitating an old tired pond... Or fixing an improperly built lake...
Success Starts Here !
Create great fishing waters with these instructive, step-by-step videos:
VOLUME I - How to build world class fishing ponds & lakes
VOLUME II - How to stock & manage small waters for trophy bass
VOLUME III - How to rehabilitate old or unproductive waters
Each video approximately 45 minutes
AVAILABLE ON DVD OR VHS
$89.95 + $6.95 S/H

Satisfaction Guaranteed
Alabama-Ray Scott may be best known as the builder of the Bass Anglers Sportsman Society (B.A.S.S.), the world's largest bass fishing organization, but the "Bass Boss" has a growing reputation as a bass lake builder.
"Creating a bass lake and building a pond are as different as night and day," says Scott, who shares his lake building know-how in a three-volume video series on "Complete Guide to Creating GREAT SMALL WATERS."
"A productive bass habitat (lake) needs structure," explains Scott. "Cover where bass can hide and ambush their prey."
Scott believes, "The mistake too many pond builders make is scooping out a big saucer-shaped bowl and putting nothing in it as bass habitat."
But, those "mistakes" can be corrected even in aging, structureless ponds if the pond owner will take a cue from Scott's experience.
"The secret to having a good bass lake," continues Scott, "is to have a balanced food chain. And, that starts with having some place for the little critters at the bottom of the food supply to hide and survive."

Scott points out, "By putting structure in a lake you provide a place for bass to
wait in ambush to attack. They're more efficient feeders from ambush. The largemouth bass, with its potbelly, isn't shaped for the long chase. Think of a pond with no hideouts as trying to catch a baitfish in a swimming pool."
By his own admission, Ray Scott learned about building a bass lake the hard way. After over 30 years of digging holes, building dams and designing small lakes and "making every mistake in the book," Scott figures he should share his hard-learned knowledge with other frustrated and disappointed pond makers.
Using the construction of a six-acre lake, near his home in Pintlala, Alabama, Scott gives a how-to video lesson on "Pond Building 101" for the interested landowner, either creating a new lake or wanting to renovate an old pond.
"Believe me," vows Scott, "anyone can have quality bass fishing waters, whether breaking ground for a new lake construction or rehabilitating a tired, old farm pond."
He says, "Use your imagination and a lot of easy-to obtain materials for structure
and you can create the bass lake of your dreams on as little as one acre."
Scott's three-volume video tape series has been heralded by fisheries biologists and fishermen, alike, for its information on designing, construction and managing a small lake.
In the over two hours of step-by-step coverage, Scott's "Great Small Waters" video package reveals how-to: (1) "Build World Class Fishing Ponds & Lakes," (2) "How-To Stock & Manage Small Waters for Trophy Bass," and (3) "Rehabilitate Old or Unproductive Waters."
In the case of typical farm ponds with bowl-shaped characteristics, Scott says, "There are many things that can be accomplished without draining and totally rebuilding a lake, like adding inexpensive structure and getting the food chain in balance."
In Scott's experience, cover and forage are the two most important things in managing a bass fishing lake. And, creating "vertical structure"-that's fishable-is more desirable than dumping a big brush pile on the lake bottom, where targeting the fish's location is more difficult.
Here's how Ray Scott suggests for the thinking basser to create low-cost structure, whether in an established body of water or prior to flooding a new pond.
"It's a simple to build, inexpensive structure that will be there for years and cost
only about $5.00," said Scott, who terms it "my pickle barrel habitat."
Using a five-gallon pickle container, a plastic bucket, picked up at a local restaurant, Scott builds a vertical structure out of limbs and quick-setting "sack concrete."
To start, make a hole in the bucket bottom, install a section of plastic PVC pipe into the hole and cement into the bucket along with hardwood limbs, like bois 'd arc tree, which resist rotting.
Drive a section of angle iron with a sledgehammer into the lake bottom. Position the pickle bucket structure into the PVC pipe hole and allow it to slide down to rest on the bottom.
Scott explains, "It's firmly anchored. You can't even push it over." Usually the pickle barrel is planted in five-to-six-foot deep water. "Believe me it works," said Scott. "I've put down this type structure in an old lake, and came back an hour later and caught fish off it."
In building a new lake, Scott will use the same structure-creating idea, but will incorporate its location on a ridge, built-up near deeper water and provide the ideal six-foot depth.
For the full story, Scott's three-volume VHS tape series-"GREAT SMALL WATERS" can be ordered by telephone at 1-800-518-7222 or writing to Ray Scott Outdoors, Inc., 238 Whitetail Trail, Pintlala, AL 36043.

CAUGHT ON VIDEO TAPE - There's any number of video tapes available on how-to catch bass, but Ray Scott, the "Bass Boss," tells how-to build the lake. Scott shares his "Guide to Creating GREAT SMALL WATERS" in this DVD or three-set VHS video tape series. To order, call 1-800-518-7222 for details. The three-video set is $89.95
SCOTT'S STRUCTURE SECRET-Ray Scott's pickle barrel structure is a quick-fix project that provides an ambush point for bass. A simple solution to providing bass habitat in an old, unproductive pond. Scott offers numerous tips in his video series "Guide to Creating GREAT SMALL WATERS."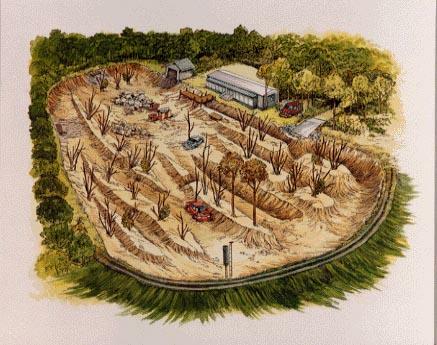 BUILT FOR BASSIN'-Here's an overview and artist drawing of a six-acre bass lake designed by Ray Scott, the "Bass Boss." Note the ridges and pickle barrel structure spots in the design. Scott's video series on "GREAT SMALL WATERS" explains the facts on building, managing and rehabilitating small lakes and ponds.